Vacuum sealer with bags for sale. Suitable for business - Colesberg
Friday, 28 April 2017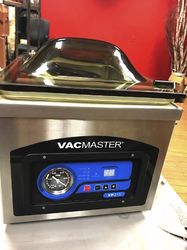 Item details
City:
Colesberg, Northern Cape
Contacts

Quintin

0710728609
Item description
Model: VP215EU
Brand: Vacmaster
Condition: New
Warranty: 12months
Specifications - VP215EU
Chamber Size: (WxDxH)28.6cm x 38.7cm x 12.7cm
Overall Dimensions: (WxDxH)35.56cm x 50.8cm x 38.1cm
Seal Bar Length:25.4cm Double seal wire
Pump:1/4 HP Rotary Oil
Cycle Time:20 - 40 Seconds
Electrical Specifications:220 - 240V, 50Hz, 4.2 Amps
Weight:38kg
Package included:
User manual
Maintenance Kit
Power cord
Filler plates
100 of 6" x 12" Bags at R240.00
100 of 8" x 10" Bags at R380.00
100 of 10" x 13" Bags at R430.00
Double Seal Wire ensures a complete and lasting seal that's 2x as strong as other machines.
Oil Vacuum Pump powerful, heavy-duty long-lasting vacuuming and sealing power.
Chamber Technology keeps air pressure equal inside and outside bag, allowing you to vacuum package liquids.